"WITH THE KEYS I MET THE LOCK AND TOOK A STEP THROUGH THE BEYOND"
—The Scribe, Ends of the Earth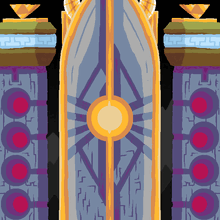 The Gate is a giant construction located in the Ends of the Earth. It resembles a closed set of double doors flanked by two rectangular prisms. The Gate is permanently closed. Nothing in Fiction can open it, unless a being walks in front of the Gate and, using the nine Curses of the Order, unlocks it.
Behind the Gate is What Lies Beyond - a being whose actual name is undetermined and holds unfathomable power. If the person that passes through the Gate challenges and kills this being in combat, they will gain enough power to kill the gods and remake everything in their own image. The Gate has never before been opened, although many have risen to the task of unlocking it.
The Scribe has sought this goal in the Zeroth Wars of both Destroy the Godmodder 2's and Destroy the Godmodder 0rigins' timeline. It is unknown how far he got in DTG2, though since the Gate is shown as open in DTG2's epilogue, it is implied that he was successful. In DTG0, he has collected four out of the nine Curses required thus far.
Ad blocker interference detected!
Wikia is a free-to-use site that makes money from advertising. We have a modified experience for viewers using ad blockers

Wikia is not accessible if you've made further modifications. Remove the custom ad blocker rule(s) and the page will load as expected.